Is Christmas your favorite time of the year? For me, I enjoy the relaxation with family and friends and aim to have all of my Christmas shopping done earlier than the few weeks before. That helps me to be more relaxed and enjoy the season!
Let the Countdown Begin! Take a look at Mommy's Playbook favorite gifts for the holidays AND then enter to win them on the easy giveaway form below!
ENTER TO WIN the Metropolitan Gourmet Gift Basket from Gift Tree! GiftTree is making the gift giving season as easy as a few clicks! Skip the long lines and do your holiday shopping right from your home or office! Choose from wine and champagne, gourmet and fruit baskets, chocolate gifts and more! Shopping for clients? Elevate your gift with personalization or branding with your company logo! Gift giving has never been easier. GiftTree delivers to most cities in the US in 1-2 days! Included in every GiftTree basket is an attached card with your personal message, convenient scissors for the recipient to easily open the gift, signature keepsake GiftTree containers, decorated with ribbon, tied by hand.
GiftTree takes orders by phone or direct from their website. You can Live Chat, track your order, and establish an account all from the comfort of your own home. Use the discount code AFFGTPLAYBOOK1915 for extra savings on your order from now through 12/31/19.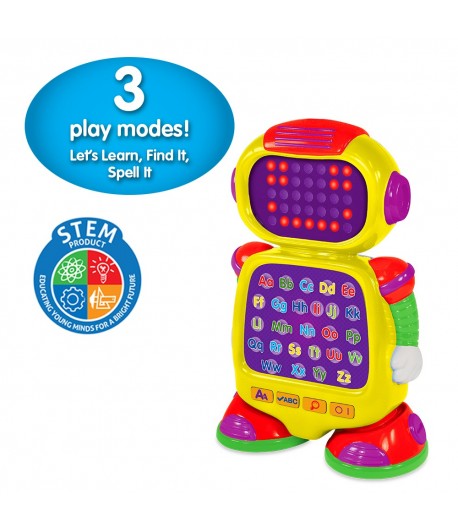 ENTER TO WIN the award-winning Touch & Learn – AlphaBot! The AlphaBot will encourage your little one to discover the magic of letters and spelling, while introducing phonics in a fun and interactive way! This robot buddy is not your average bot. With three play modes – Let's Learn Letters, Find It, and Spelling Quiz – a colorful letter touch pad, exciting sound effects, and a cool retro design, AlphaBot will surely promote loads of learning fun! Includes a lightweight portable design, LED panel with fun emoticon faces, and auto shut-off. Requires three "AA" batteries (included). Ages 3+ years. Available at www.tlji.com
ENTER TO WIN a PURE Essential Oils Set Variety Pack from Pure by Rachelle Parker! This essential oils set is a perfect gift for anyone, whether beginning to learn about body oils or for a doctor, naturopath, or aromatherapist. Help them tap into the world of Aromatherapy with this 14-piece aromatherapy set! The Variety Pack contains: eucalyptus, peppermint, lavender, tea tree, lemongrass, ylang ylan, patchouli, clary sage, pine, bergamat, cedarwood, camphor & frankincense Essential Oils! No matter what your mood or scent preference, this set is sure to delight your senses.
You should know: ALL Pure by Rachelle Parker essential oils are 100% pure and antural therapeutic grade. No added ingredients – PURE never sacrifices quality for price! "ABSOLUTELY NO" SYNTHETICS, CHEMICALS, CARRIER or BASES ADDED. This makes our oils the most AMAZING SMELLING essential oil on the market. PURE essential oils are cold pressed for maximum efficacy. Distillation facility is GMP, FDA, ISO 9001 and Kosher certified. Make sure ALL oils you buy have these qualifications!
Save 15% of this set of oils by using code: OILSRG4U at checkout—->
HERE
.
ENTER TO WIN a Chocolate Pizza from the Chocolate Pizza Company! Are you looking for a unique chocolate gift for your loved ones? Chocolate Pizza Company's holiday favorite is their Snowflake Chocolate Pizza! This Chocolate Pizza blends Swiss-style rich milk and dark chocolate blended with old-fashioned homemade English toffee for a unique taste sensation. Their expert chocolatiers then top it with red and green milk chocolate candies for a Christmas theme and generously sprinkled it with sugar snowflakes.
Visit Chocolate Pizza Company to learn more about their gourmet chocolate specialties AND read the inspirational story of their owner, Ryan Novak! Ryan started with the small-town chocolate shop as a dishwasher when he was a teen and later turned it into an national brand with signature trademarked treats!
ENTER TO WIN a SmitCo Kids Jewelry Set! SmitCo are experts at girly girl gifts! Do you have a girly girl? My daughters have all of the SmitCo Kids Jewelry Sets and what they love most is that they include matching rings for each set. They are all adorable but my favorite is the wooden ladybug set. Read our review HERE.
Need more ideas? Have you seen their pop beads, journaling kits, and play jewelry? Visit SmitCo online to find the perfect gift for your kids this Christmas.
ENTER TO WIN a Lugz Women's New Arrival! Think Lugz is just for men? You are so very very wrong! Not only are they for women too, but their boots and sneakers are the best shoes I have ever put on! Actually, aside from flip-flops, Lugz are the only closed-toed shoe brand I can wear!
Visit Lugz.com to learn more and checkout ALL of their new arrivals and holiday sales! Check out my favorite boots too—->HERE!
ENTER TO WIN a Winning Moves USA Prize Pack! Winning Moves USA's mission is to provide happiness to consumers by offering Classic, Retro, Cool and Fun games for play with friends and family. The winner of this great giveaway is going to have games to play with the whole family! No Stress Chess® is an amazing game and a fun way to learn how to play Chess AND Pass The Pigs® Big Pigs™ is just FUN! Rolling around with your BIG PIGS is holiday fun I promise!
Visit Winning Moves USA online to find the latest games to play with your family!
ENTER TO WIN a Teach My learning kit of your choice! Teach My designs, manufactures and sells award winning learning kits and sets for babies, toddlers, preschoolers and kindergarteners. From ABC's and 123's to reading, printing, spelling and math, our products aim to teach the basic skills. Teach My encourages playing with a purpose which includes screen-free early learning, parent child interaction, self-esteem, fine motor skills and hand eye coordination. Bond. Teach. Play… 20 minutes a day! Looking for the best prices on Teach My kits and educational toys? Find great prices on Teach My at Amazon!
ENTER TO WIN!
ALL OF THE PRIZES LISTED ABOVE
ONE WINNER TAKES ALL!!!!!
The giveaway is open US Only, 18+
The giveaway ends 12/24 at 1159 pm est
Be sure to come back daily for more chances to win.a Rafflecopter giveaway
Mommy's Playbook Giveaway Rules: This giveaway is Sponsored by all of the Countdown to Christmas brands listed within the giveaway article and hosted by Mommy's Playbook. Victoria and/or Mommy's Playbook, Participating bloggers, are not responsible for prize fulfillment. By entering this giveaway you are giving the giveaway host and/or event sponsor permission to retain your email address for future communication, you may choose to opt-out of such communications at any time. This giveaway is not sponsored or endorsed by any social media outlet including, but not limited to, Facebook, Instagram, Twitter, and Pinterest. Please contact Victoria (at) MommysPlaybook.com regarding any questions you have pertaining to this giveaway.