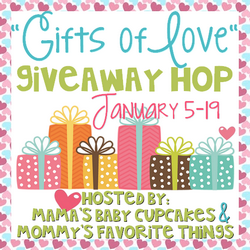 Mommy's Favorite Things
&
Mama's Baby Cupcakes
"Gifts of Love"
This Blog Hop is Gifts of Love. Prizes for Valentine's Day. Any family friendly item that you would give as a gift is acceptable for this giveaway hop. There are lots of options for finding a prize for this wonderful event. Your only mission is to find the perfect prize pack for your blog!
Because this is a blog hop, each blog will be responsible for securing their own prize on their own blog. Each prize must be a Minimum of $25. The Prize can be sponsored OR you can self sponsor. Each blog can have more than 1 winner, but each winner must win at least $25 in prizes.
Joining this Blog Hop is FREE as long as you share the announcement in some way. It takes 2 seconds to do this!! Tweet, pin, or share on FB.
When: 1/5-1/19
Who: Anybody with a blog can sign up for this one!
Sign ups close 12/29
Add yourself to the Linky here! You MUST share this announcement in order to participate in this hop.
You can also join the Facebook Group for our events here