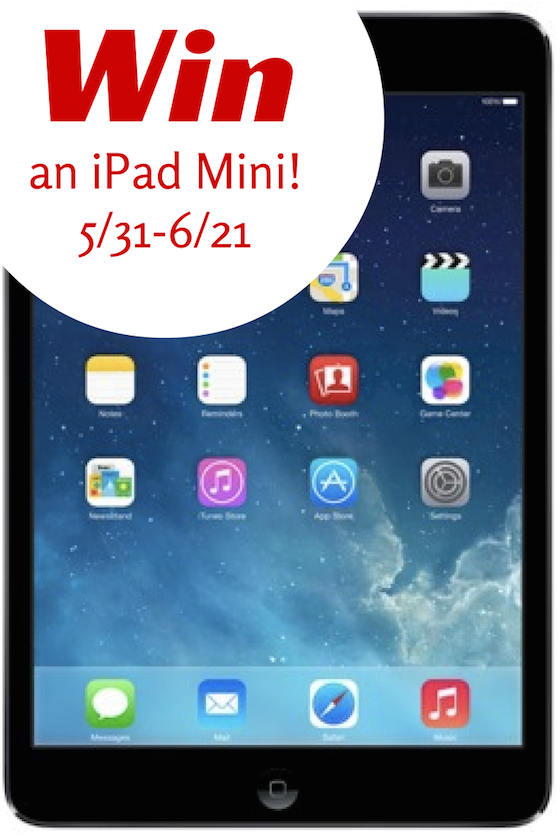 I own an iPad 2 and LOVE it, I don't know what I did before I got this tablet! However, now that the Mini version is out, I would love to have this too. Check out this awesome event where you can win an iPad Mini!! Good luck.
How would you like to win a 16gb iPad Mini? An iPad is great for all ages. Do you have a trip planned this summer? You can watch movies and play games to help the time pass by. They are also great for reading books and magazines and so much more!
iPad mini features a beautiful 7.9-inch display, iSight and FaceTime cameras, the A5 chip, ultrafast wireless, and up to 10 hours of battery life. And over 275,000 apps on the App Store made for iPad also work with iPad mini. So it's an iPad in every way, shape, and slightly smaller form.
7.9 inch LED-backlit display
A5 chip
5MP iSight camera with 1080p HD video recording
FaceTime camera
Up to 10 hours of battery life
Built-in Wi-Fi (802.11a/b/g/n)
Over 275,000 apps on the App Store
iOS7 and iCloud
This giveaway is brought to you by the follow blogs
This n That With Olivia ~ A Spectacled Owl ~ Frugal Fanatic ~ This Roller Coaster Called Life ~ Madame Deals ~ Daddys Mac ~ Saving You Dinero ~ Lindas Lunacy ~ Sweet Pennies From Heaven ~ My Dairy Free Gluten Free Life ~ Mom Does Reviews ~ Simply Sherryl ~ Spaceships And Laser Beams ~ Frugal Living Mom ~ Powered By Mom ~ Great Wild Outdoors
Giveaway information:
1 person will win a 16gb iPad mini (retail value $299).
Open to US Residents
Dates May 31 – June 21 2014 at 11:59pm EST