New Year's Eve is all about the ball drop, but when it comes down to it that's actually only a pretty small part of the night so when you're hosting a NYE party, what do you to keep your guests busy until those final moments of the year? Well, I'll tell you what I'm doing. This year I've got plans for games and activities to help us count down to the countdown! Every 30 minutes, I'll have a new idea prepped and ready to keep the excitement going. I know what you're thinking, "Good luck. That sounds like way too much work." You're right, it does seem like a lot but it's really not – The Dating Divas made it so easy for me with a printable, New Year's Eve Countdown Kit!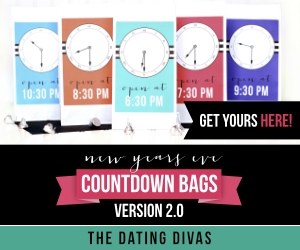 I'm so excited to impress everyone with a totally organized evening that secretly only took a tiny bit of work. The whole night is basically all ready to go, I just printed everything the kit provides:
Party Bag Countdown Template and Bag Designs to organize each activity and materials by time, in coordinating bags.
TONS of Activity Cards to choose the ones that are best for each hour and the type of party being hosted. (There are great ideas for all ages!)
Printable Activities like an Interactive Dinner Place Mat and a New Year's Eve Spinner Game.
New Year's Resolutions Poster Print with printable sticky note templates to make goals and resolutions.
Snack Tags for a fun and interactive midnight snack.
New Year Party Bag Tags to make favor bags for the night.
New Year's Eve Kit Cover to send off the perfect New Year's Eve gift.
I am all about keeping things organized and preparing things ahead of time when I'm hosting a party. The more I do before the party, the more time I get to spend enjoying the actual party. When I saw the countdown bags, I knew I had to have them. I think it's so clever that you can put everything you need for each activity into the bag. No searching around last minute to figure out where you stashed the glue! (Yep, you're going to need some glue!)
If you're anything like me, planning ahead is key but hardly having to plan at all is even better. I'm not going to spend hours scouring Pinterest for cute New Year's activities, I'm just going to pick my favorites from the ideas in the kit. I am loving the variety of choices – some are nice and simple ideas that require almost no prep or materials, while others are really fun activities that are sure to get us all really excited for the clock to strike midnight.
The printables can even help make dinner special, by just adding some themed place mats. I just know the kids will be excited to draw and play games during dinner.
A big part of celebrating the new year is reflecting on the past year and setting goals for the future, and I'm so glad this kit incorporates a giant poster for helping us do just that! The sticky note templates are going to be great guidance for the little ones and it's all cute enough that we can find a great place to keep it up as party decor.
And what's the best part about staying up until midnight? How about a midnight snack?! It's another simple idea to make the night special. I'm just going to make little bags of chocolate kisses, attach the tags and call it DONE.
Whether you're hosting a get-together with friends or simply enjoying the holiday with your family, these countdown bags will keep everyone entertained and will help make sure you don't leave out any fun, new traditions. Get your complete set of countdown bags, activities and New Year's Eve fun right now!