Are your kiddos fans of PAW Patrol? Liam is all about these characters on their missions in the show. When PAW Patrol: Dino Rescue was released on 8/4, and I knew Liam would love it.
Pairing this fun show and Dinosaurs – brilliant! Liam loves both, too! To celebrate the release of this DVD, we were sent this adorable Dino Themed Kit so that Liam could not only explore the PAW Patrol fun but he could become a paleontologist!
PAW Patrol: Dino Rescue
ROAR into a prehistoric land with the PAW Patrol in these six dino-mite tales, including two double-length missions. Join the pups as they roll into Dino Wilds to keep their new friends safe from an erupting volcano and a scheming dino egg thief. Then, the team gears up for a robotic dinosaur adventure.
Episodes on this DVD
Pups and the Lost Dino Eggs
Pups Save a Pterodactyl
Pups and the Big Rumble
Pups Save a Big Bone
Pups Bark with Dinosaurs
Pups Save a Robo-saurus
Themed Dino Rescue Kit
How adorable is the kit above? It is packed with all of the fun stuff themed for this DVD including coloring pages, a copy of the DVD, mini figures and the Dino Dig Kit!
Dinosaur Dig Kit
I just knew that Liam would love each and every item in this kit, and he was SUPER excited to break into the eggs. After all, he watches those egg opening (I don't know what they are called) things on YouTube all the time! Plus, he loves dinosaurs!
PAW Patrol Coloring Sheets
Then, the coloring pages! He loves to color and loves PAW Patrol, so I knew he'd love this as well. He wanted to open the figures too, so that he can see which colors he needed for the coloring sheets.
PAW Patrol Mini Character Figures
Then, he colored away and did a GREAT job with all the little details. He loves the little figures, too!
I know that your PAW Patrol and dinosaur loving kiddos will love this pack too!!
Dino Dirt Cup Recipe
In addition to the kit contents, here is a recipe for Dino Dirt Cups!! These cups will be a GREAT addition to the PAW Patrol themed family night for you and your kiddos. They'll be a nice treat for everyone!
To grab this easy and delicious recipe, simply click on the image below.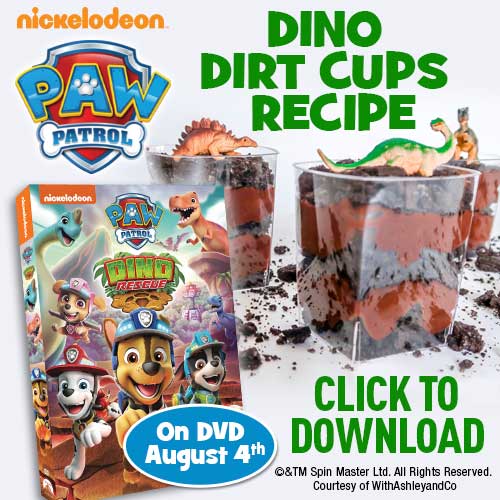 Order PAW Patrol: Dino Rescue
There are so many fun toys to go with this awesome DVD, here are some of my favorites:
Grab these amazing additions to the prize pack because your kiddos will love it.
Enter to Win
Now, its your turn to enter to win one of these PAW Patrol: Dino Rescue Themed Prize Packs! To enter to win, simply use the Giveaway Tools form below.
All entrants must reside in the US and be 18+ older to be eligible. Entries will be verified and the winner will be contacted via email and will have 24 hours to claim their prize or a new winner will be drawn. This N That with Olivia is not responsible for prize fulfillment.