PAW PATROL: JET TO THE RESCUE is now available on DVD! Plus, they have released an exclusive line of toys to coincide with this awesome TV movie for your Paw Patrol fans.
Liam absolutely loves this show and his 6th birthday party this year will be a Paw Patrol theme! We were SO excited to check out this DVD before its release and also get an exclusive chance to review some of the toy line available now.
PAW PATROL: JET TO THE RESCUE Exclusive Toy Line
In addition to the awesome DVD release, there is an exclusive and fun line of toys released for your kiddos and Paw Patrol fans. We were sent a gift pack of these toys to check out.
PAW PATROL: Jet to the Rescue DVD
First, this amazing DVD is available to purchase now. You're going to want to grab this to watch during your time at home with your littles as the DVD is packed with extra content!
Get ready for high-flying adventures with the PAW Patrol pups in the brand-new DVD PAW Patrol: Jet to the Rescue, featuring an exclusive, all-new original TV movie and four fan-favorite episodes from the number-one ranked preschool show on television, produced by Spin Master Entertainment and airing on Nickelodeon. The DVD release lets fans join the pups as they travel back to Barkingburg with all-new rescue gear and high-speed mission jets for action-packed aerial adventures. The PAW Patrol pups will soar to new heights to save Barkingburg Castle, rescue a stunt pilot, help one of Mayor Humdinger's kittens and more!
Jet to the Rescue episodes:
Jet to the Rescue
Pups Save a High-Flying Skye
Pups Save Skye
Pups Save a Flying Kitty
Pups Save an Ace

Paw Patrol, Jet to The Rescue Deluxe Transforming Spiral Rescue Jet with Lights and Sounds
This toy is SUPER cool and Liam loves it. The jet transforms and has fun lights and sounds which is perfect for him. This vehicle also includes an exclusive Jet to the Rescue Chase figure, wearing a flight suit and helmet!
You can add one more character into the jet as there is room in the cockpit with Chase. The PAW Patrol Jet to the Rescue Spiral Rescue Jet makes a great gift for kids aged 3 and up. Requires 3 LR44 batteries (included).
Paw Patrol, True Metal Jet to The Rescue Gift Pack with 7 Collectible Die-Cast Vehicles
Out of all of the toys we got for PAW PATROL: Jet To The Rescue, I think these are Liam's favorite. He has other little Paw Patrol toys and enjoys that he can take them with us anywhere we go.
These toys are "true metal" and are such high quality. He loves that they have real working wheels too. These True Metal vehicles can race to the rescue! Each pup comes molded with ears back – push them along or launch them forward for high-speed rescues!
Paw Patrol, Jet to The Rescue Marshall's Deluxe Transforming Vehicle with Lights and Sounds
Liam truly loves all of the Paw Patrol characters but if we had to pick a favorite it would be Marshall. I think that is because he loves the color red and the fact that he has such a huge role in the show.
He loves that this vehicle transforms from stealth mode to rescue mode and that the wings pop out to activate lights and sounds! This stealthy jet comes with a collectible Jet to the Rescue Marshall figure. Wearing a red flight suit and helmet, Marshall is ready for a ruff ruff rescue!
Paw Patrol, Jet to The Rescue Everest Deluxe Transforming Vehicle with Lights and Sounds
Everest is such a cool character in PAW PATROL and this transforming vehicle is the perfect toy to compliment this DVD release. Liam loves these transforming vehicles!!
As with Marshall, you can witch this Amazon exclusive jet from stealth mode to rescue mode with the push of a button! Press the button on top and sections of the wings pop out, activating lights and sounds. Plus, this stealthy jet comes with a collectible Jet to the Rescue Everest figure. Wearing a teal flight suit and helmet, Everest is ready to fly!
Exclusive Jet To The Rescue Clips
If you haven't seen this TV movie yet, check out these clips! You and your kiddos will love them:
"Mission Briefing"
"Skye Leads a Mission"
Skye Flight Goggles and Badge Craft
If your kiddos want to fly like Skye, they'll love this Flight Goggles and Badge craft! JET TO THE RESCUE is available today from Amazon and nationally on September 8th!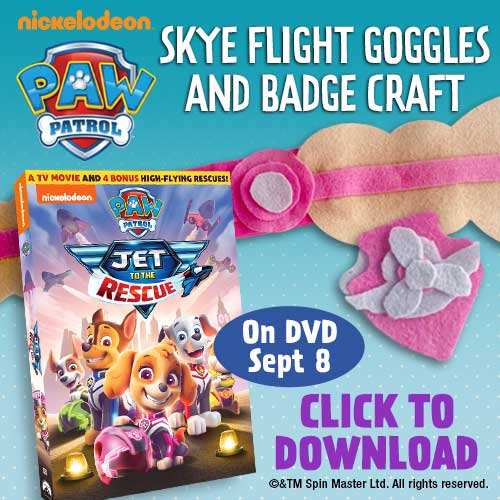 Female Aviators Coloring Sheet
Celebrate fantastic female flyers with this fun and educational coloring sheet that features the PAW Patrol's Skye and four real-life female aviators!