Disclosure: This post may contain affiliate links, which means we may receive a commission if you click a link and purchase something. Please check out our disclosure policy for more details.
Happy Saturday and welcome to the Wild Card Weekend Hop hosted by Crunchy Frugalista and Money Savvy Michelle. What's the Wild Card Weekend hop about? Even though we host daily hops, we realize we don't offer a hop for every network and that we constantly have new bloggers linking up. Plus, it's Saturday, we all want to take it easy! So, with this hop all we ask is that you link up to your blog's homepage and then follow as many other blogger's as you can on at least one network.
We're happy to now offer guest host spots for our hops! If you'd like to guest host Wild Card Weekend with us, please fill out the form located here.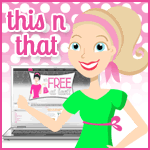 Please welcome this week's guest host: Olivia of This N That with Olivia! Go show her some Wild Card Weekend love. =)
While not required, we'd love it if you could share our giveaway linky with others through a short blog post, Twitter, or Facebook. After all, the more people that participate, the more followers we can all get!
To Participate:
Follow your co-hosts (Crunchy Frugalista & Money Savvy Michelle) on at least one network. We always follow back those that leave a comment.
Follow this week's guest host: Olivia of This N That with Olivia.
Link up to your blog below.
Follow as many others as you can on at least one network. Be sure to leave them a note saying you found them through our hop and where they can follow you back at.
We also have weekly hops for Alexa, Twitter, Giveaways, GFC, Facebook & Email RSS Subscribers if you'd like to link up.