Zaycon Foods provided me with complimentary products. The opinions I have expressed are my own. #ad #sponsored
We eat a lot of chicken in our house – there are so many different recipes that you can use chicken in! Our latest fun one has been Chicken Quesadillas, but we also grill a lot as well. 🙂 Since we love chicken, we like to purchase it in bulk and then freeze it in ready to thaw portions for the meals ahead. I am excited to share a company with you, Zaycon Foods, that asked me to try out their services and chicken and share my experiences here.
What is Zaycon Foods?
Zaycon Foods is a company that offers a somewhat unique service of providing food directly from the farm or processor to the consumer. This is their way of skipping the middle man- the grocery stores- and allow you to get meat directly from the processor. In addition to chicken, they offer turkey, ground beef, fish, pork and a few other items!
How Does It Work?
I love how simple it is!! Zaycon partners with farms across the country to provide you direct to consumer food. You simply go on their website and sign up for a FREE account . Then, you can specify the area that you're in and you can see the local events in your area. Then, you make your purchase online and show up on the right day at the designated time at the predetermined location. When you arrive, you'll see a large refrigerated tractor trailer truck and a person with a tablet…. they'll check your name and what items and load it in the car for you! The foods only come in large quantities- like the chicken I ordered was 40lbs! This works GREAT for our love of buying in bulk!
Zaycon Foods Chicken Review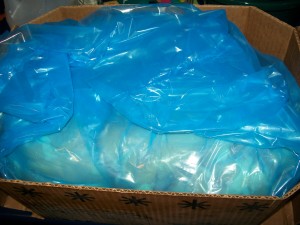 My Mom and I went to the local church parking lot and picked up our chicken. I loved how the box was packed, as you can see to the right. When we got home, my husband carried it in and we started the separating process. As you can see in the picture, there is a big blue bag and then inside there are 4 additional bags that hold the chicken. PLUS, when I picked up the chicken, the gentleman loading it put a plastic bag under the box of chicken.
These chicken breasts are HUGE!! The chicken breasts are already cut in half when you get them from the store, but in this case they're not. The chicken is also boneless and skinless but not fatless so you may have some trimming to do. We decided to make it an assembly line…. my husband got the chicken out and trimmed it, I wrapped it in plastic wrap and Mom bagged it. We wrapped it in pairs so that we could then put like 12 chicken breasts in one freezer bag to save time and space!
Pros of Zaycon Foods Chicken
I LOVED the price of this chicken, for 40 lbs it was $73.60- not too bad. We were talking about splitting the next purchase into 2-3 people so that we could save some money but still buy bulk. Further, the chicken was packaged nicely like I highlighted above and the pickup was a breeze! I also love that there are no hormones or antibiotics to worry about. as this chicken is all natural. Plus, the meat has never been frozen so you are buying fresh meat.
Cons of Zaycon Foods Chicken
Yes, we love to buy in bulk but 40 lbs is a lot of chicken. Thank goodness my Mom was over and able to help us with the assembly line as it was a time consuming task. To thank her for her assistance, we sent my Mom and Dad home with some chicken. Another one is that their locations sell out quickly so you have to be quick to order and it could be a 2-3 month waiting period before you get your meats. You've gotta be proactive with this one.
I think that we will be purchasing from Zaycon Foods again soon and maybe trying their other meats as well. So far we've made a variety of meals with the chicken and most of the time we only need one chicken breast since it is so large.
Check out this recipe for Chicken Quesadillas, made at home, with Zaycon chicken!
[yumprint-recipe id='22']